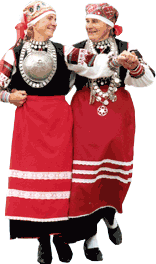 SETO RAHVAKULTUURIRÜHM
SETO FOLKLORE GROUP
contact: Valdo Rebane valdo.rebane@mail.ee

SETO FOLKLORE GROUP " HÕBEHALL", MIKITAMÄE, SETOMAA, PÕLVAMAA, EE juhendaja / leader mrs. Maivi Laar



1999 2000 2001 2010
SETO FOLKLORE GROUP " HÕBEHALL", MIKITAMÄE, SETUMAA, PÕLVAMAA, EE
juhendaja / leader mrs. Maivi Laar
Hõbehall
South-eastern Estonia is home to the unique region of culture and tradition called Setumaa. Hõbehall – at first a group of more mature ladies – started dancing just here in 1995, although by the end of 2001 they had been joined by a mixed group of dancers. It always brings a smile to our faces that this group is the only Seto mixed dance group in the world! Our name, Hõbehall (in English Silvergrey), doesn't only mean grey hair – although we have plenty of that! – but also refers to the silver jewellery that adorns the national costumes of our lady dancers. We are proud to wear Seto national costumes when we dance. Our repertoire mainly consists of Seto dances and dances about all things of Seto. Our goal is to preserve, develop and promote Seto folk dance.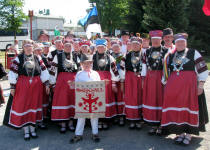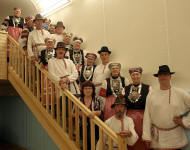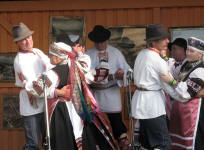 Hõbehall
Kagu-Eestis on omanäolise kultuuri ja traditsioonidega piirkond Setumaa, kust on pärit ka rahvatantsuansambel Hõbehall, mis alustas 1995. aastal esmalt memmede rühmana, aga 2001. aasta lõpus lisandus ka segarühm. Ütleme ise naljatledes, et tegemist on maailma ainsa setu segarahvatantsurühmaga. Ja meie nimi ei tähenda halle juukseid (ehkki neid on meil ka!), vaid tõepoolest halli hõbedat, mis kaunistab meie naiste rahvariideid. Kanname ju oma piirkonna – setu – rahvariideid.
Meie repertuaaris on enamasti setu või setu-ainelised tantsud. Ansambli eesmärgiks on setu rahvatantsu säilitamine, arendamine ja tutvustamine.